Young Missionary Testimony
of President M. Russell Ballard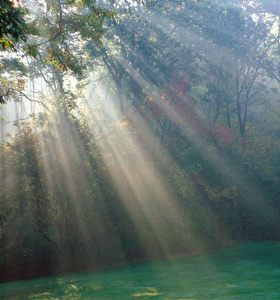 ---
Our Search for Happiness: An Invitation to Understand
the Church of Jesus Christ of Latter-day Saints
(Salt lake City: Deseret Book, 1993, 7-8)
---

From Elder Ballard's 1949 diary:

It had been a long day, not discouraging, but exhausting, filled with meetings and ministering . . . The sun was about to set on another hectic Sunday. I had just concluded a successful street meeting with the other missionaries in the Nottingham District, during which we shared our message with passersby on Nottingham Square.

As I strolled along the Trent [riverbank], weary and yet happy and satisfied in the work, an overwhelming feeling of peace and understanding came over me. It was at that precise moment in time that I came to know that Jesus Christ knew me, that He loved me, and that He directed our missionary efforts in England and throughout the world.

Of course, I'd always believed those things. They were part of the testimony I had shared just a couple of hours earlier. But somehow in that instant of what I realized was pure revelation, my belief turned to knowledge.

I didn't see any visions and I didn't hear any voices, but I could not have known of Christ's reality and divinity any more intensely had He stood before me and called out my name.

I had impressed upon my soul the fact that the Prophet Joseph Smith went into the grove near his home in Palmyra, New York, and there knelt and supplicated our Heavenly Father, wanting to know which of all the churches was true. The father and the Son really did appear unto him, and the Father spoke to him, saying, "Joseph, this is my Beloved Son. Hear Him."

That the Savior of the world, our Redeemer, our Lord, our God, our very best friend, spoke to that young prophet on that occasion became a reality to me.



---
Home / Humor and Whimsy